It's not news that Symply Tacha is one of the most popular personalities in Nigeria. In fact, on her 24th birthday, she was the most mentioned person on Twitter, there were over 4 million tweeter users wishing her a happy birthday.
Tacha was one of the most controversial housemates in the 2019 edition of the BB Naija TV reality game show. She was a strong contender and the most anticipated winner of BB Naija 2019 and the would-be winner 60 million grand prizes if she was not disqualified.
In this article, I'll be telling you all you need to know about Symply Tacha. Tacha's real age, short biography, jobs, education, Tacha's endorsement, cars, net worth, and EVERYTHING YOU DIDN'T KNOW.
Symply Tacha Profile Overview
In Big Brother Naija 2019, Anita Natacha Akide was one of the most popular contestants and the favorite housemate in Nigeria, her influences in the show has taken her online business to the next level. This reality TV star has made an awesome name for herself. Before we say more, Who is Tacha?
Full name: Anita Natacha Akide
Age: 24 years old [2020]
Date of birth: 23rd of December 1995
Nationality: Nigerian
State of Origin: Rivers State
Occupation: Instagram, influencer, songwriter, blogger, businesswoman, makeup artist, model, reality TV star, on-air personality
Symply Tacha Biography
Anita Natacha Akide, popularly known as PH first daughter, Tacha or Symply Tacha according to her twitter handle is the popular reality TV star from The Show Big Brother Naija.
Tacha is not an Igbo or Yoruba girl as many have ignorantly presumed. She is an Ijaw woman of Kalabari tribe located in the western area of River State, Eastern-Niger Delta region of Nigeria.
Born on Saturday the 23rd day of November 1995, she grew up in a small town in Port Harcourt city, Rivers state. This was where she grew into the nickname PH City's first daughter after Duncan mighty, who is PH City's first son.
Tacha was already a prominent figure online and was never shy in front of the camera. She was specifically interested in Instagram and Youtube. Even before BB Naija, Tacha had over 300,000 followers on her Instagram handle and 3,000 followers on her Twitter page.
It seems like she was very passionate about online business and not the usual runz girl most people presumed her to be. Even when she became a housemate on the Big Brother Naija reality TV show, Tacha's personality got her so much attention that she had over 500,000 on Instagram followers in a day.
RELATED:
Popular Ankara Styles For Women
Cheapest Places To Buy Land In Lagos
She was even followed by popular celebs like Zlatan, Bobrisky, Davido, and Peruzzi. Tacha is the first housemate in BBN 2019 edition to get a verified Instagram account.
Truth be told, she deserved to win. Before she was previewed on the show she was a graduate, songwriter, model, and makeup artist who gave tutorials on YouTube and also did gigs on weddings and pageantry. Today, She has added businesswoman, entrepreneur, fashion designer, philanthropist, Instagram influencer, and model to her skill arsenal.
Why do people like Tacha? One thing a lot of people loved about Tacha is her confidence. Even with the tattoo and stretch marks on her breast and shoulders, Tacha is never afraid to show off her amazing body when she gets the chance. Although Tacha is a trouble maker, the fans still love her that way.
Symply Tacha Education & Academics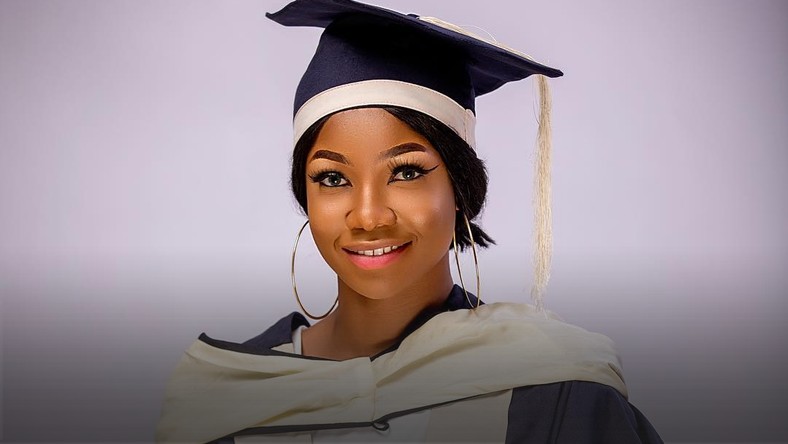 Tacha completed primary & secondary school education in flying colors. She schooled in her hometown in Rivers State. She obtained her Primary School leaving certificate and a secondary school certificate in the same school before going to complete her undergraduate program in a university close to her home. In 2012, Tacha got admitted into Ignatius Ajuru University of education in Rivers State.
In 2016, Tacha became a graduate with a BSC certificate in Sociology from the same university. After school, she went on to train herself in the art of makeup, beauty, and pageantry. She became a full-time vlogger, mini digital marketer, and influencer. She was even giving free tutorials on her YouTube and Instagram page.
Symply Tacha Contact Details
Contacting Tacha is nowadays is a bit harder than it used to be unless you are a celebrity of course. In this segment of my article, I will be showing you how to get in touch with Tacha on Whatsapp, Facebook, Twitter or Instagram. Here are Tacha's contact details:
Instagram – @symply_tacha
Twitter – @Symply_Tacha
Facebook Profile – facebook.com/xessy.bill
Youtube – youtube.com/c/SymplyTacha
Facebook Page – facebook.com/officialsymplytacha
Tacha Relationship History
Truth be told, Tacha is a beautiful girl and I'm sure a lot of guys would love a chance to get at her. Even Zlatan once tweeted that he was in love with Tacha. in this part of the article will be looking at the relationship history of Tasha.
1. Tacha and Davido's Chemistry
We believe that that one point Tacha & Davido had something for each other. When Davido started the DMW and released the new logo for DMW, a lot of fans went crazy and were drawing the tattoo all over them. That was when Tacha got her DMW tattoo between her breasts.
Tacha took a picture of her tattoo and posted it on her Instagram page, tagging HKN boss, Davido. David saw the picture, liked it, commented, and followed Tacha on IG. Immediately Tacha saw followed by Davido, she took screenshots and uploaded it on Instagram.
Later that same day, Tacha met Davido in the club and the two of them were seen by several people drinking together and even holding hands. She also claimed that she is in love with Davido. Too bad for Tacha, Chioma stole his heart.
2. Tacha Boyfriend
Yes, for all who want's to know, the name of Tacha's boyfriend is King Ladi. You can find him on IG @kingladiofficial. She mentioned him once in the house. She said that "Ladi is more than a boyfriend to me, he is my twinny and a good husband".
King Ladi also did likewise. He posted on his IG story that the BBN show was taking too long, he urgently needs his girlfriend by his side.
Tacha's Endorsement Deals
Tacha is currently the ambassador of 4 major brands. If not for the outbreak of the novel COVID-19, I'm sure we will be seeing her beautiful face in most of the billboards in Lagos. In all, Anita Natacha Akide is the brand ambassador of House of Lunettes, GetFit, Ciroc, and Royal Hair.
Tacha's Beefs
Over the course of 1 year, Tacha has had had beef with close to a dozen celebs. We will just be going through a handful of them in this part of our article.
1. Tacha Vs Mercy Eke
Before Tacha fought with Mercy, she had already fought with most of the housemates including Mike, Diane, Omoshola, Seyi, and Cindy. The battle between Mercy and Tacha was the most epic of all Pepper Dem Battle. It was a small misunderstanding that causes the fight sha. But the fight sweet. Remain small dem for break bottle.
In all, The God of Mercy showed himself strong and Tacha was disqualified. Tacha was issued 3 strikes, which led to her disqualification. While Mercy got 2 but came back strong to be the last woman standing in the Big Brother Naija reality TV show.
2. Tacha vs TeeBillz
After Tacha was evicted, she took shelter under the wings of Teebillz. He even promised to make her the Kim K of Africa. Teebillz and Tacha's relationship was filled with ginger, a lot of endorsements were bagged by this duo at that time. Sadly, things ended badly between the two in less than 3 months. The reason is not still clear.
3. Tacha vs Seyi
Although Tacha and Seyi were close, Tacha broke the bond they had when she went after Seyi. It was sad because a lot of the fans thought there was a chemistry between them and they will emerge as the premium BB Naija couple. The relationship took a big rift after the Veto power episode. Tacha also had serious battles with other housemates including Diane, Omoshola, and her BFF, Cindy.
4. Tacha vs Mike
Tacha and Mike also had a big fallout before the show was over. After the weekend party, Mike walked in and playfully splashed some water on Tacha, but she did not take it too lightly. It escalated into a big fight that involved more insults than fists. Tacha rained hurtful words on Mike but he kept his cool. They didn't speak too well until the show was over.
5. Tacha vs Ubi Franklin
In more recent news, Tacha is currently in a hot pepper soup battle with Ubi Franklin. This time, Na Oga Franklin cause the fight. Ubi Franklin indirectly hyped Mercy and called Tacha a beggar who needed his help to enter BBN 2019 edition. This enraged Tacha and the Godzilla in her was revealed despite the ongoing CoronaVirus pandemic.
Symply Tacha's Real Age
Tacha is currently 24 years old. On the 23rd of December 2020, Tacha would be 25 years old. Although we are not 100% sure if there is her real age or just a football age, we are certain that this was the age she used in her BBN audition application.
Tacha's Businesses And Career
Tacha is not just a pretty face, she is also an experienced businesswoman. She currently has an online store, @everythingtacha where she sells her own merchandise from watches to beard cream, lip lotions, power banks, teeth whitening formulas, and other beauty lotions.
Tacha Networth
Tacha's Instagram handle alone is worth over N800,000. She also received close to N80,000,000 from friends and well-wishers after she was evicted from the BB Naija reality TV show also owns a black Mercedez Benz C class worth about N18,000,000, a house in the UK, and endorsement deals worth millions of Naira.
Tacha has also been spotted with Ex-Governor of Cross Rivers, Sir Donald Duke & the Governor Cross River, Prof. Ben Ayade. We are pretty sure that these men gave her a fat check or credit alert after her visit. All together, Tacha's net worth is estimated to be roughly N142,000,000.
We can boldly say the future is somehow bright for this rude trouble making celebrity. So what do you think about Tacha? What do you know about Tacha that we missed? Do tell us in the comments below.